Welcome to

Grand Canyon Plaza Hotel Blog
Page, Arizona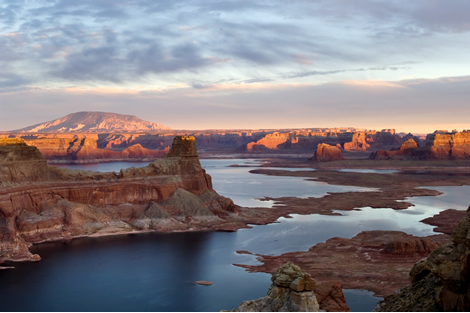 Today, Page hosts millions of visitors annually. The central location of Page offers services for tourists traveling to Lake Powell, Monument Valley, the Grand Canyon's North and South Rims, Bryce and Zion. There is much to do in Page, from the Rim Trail – a 14-mile biking/hiking trail around the city to Lake Powell National Golf Course, which offers 18 holes of scenic beauty and golf for every experience level. The John Wesley Powell Museum has exhibits about Major Powell and the history of river running, as well as changing exhibits of regional significance.
Antelope Canyon is the most-visited and most-photographed slot canyon in the American Southwest. It is located on Navajo land near Page, Arizona. Antelope Canyon includes two separate, photogenic slot canyon sections, referred to individually as Upper Antelope Canyon or The Crack; and Lower Antelope Canyon or The Corkscrew.
Horseshoe Bend is the name for a horseshoe-shaped meander of the Colorado River located near the town of Page, Arizona, in the United States. The bend is locally known as "King Bend." It is located slightly downstream from the Glen Canyon Dam and Lake Powell within Glen Canyon National Recreation Area, about four miles or 6 km south of Page. Accessible via a ¾-mile (1.2 km) hike from U.S. Route 89, it can be viewed from the steep cliff above. According to Google terrain maps, the overlook is 4,200 feet above sea level and the Colorado River is at 3,200 feet above sea level making it a breathtaking 1,000 foot drop.
Rainbow Bridge is the world's largest known natural bridge. The span has undoubtedly inspired people throughout time–from the neighboring American Indian tribes who consider Rainbow Bridge sacred, to the 300,000 people from around the world who visit it each year. At Lake Powell's current level, Rainbow Bridge is not visible from the boat dock. It takes a hike ranging from one quarter to two miles, to actually see the bridge.
Page is also at the center of the Four Corners region's Grand Circle of National Parks, Monuments, and Recreation Areas. More than 15 parks and monuments are within a day's drive from Page, including: Grand Canyon's South and North Rims, Zion, Bryce, Grand Staircase – Escalante, Rainbow Bridge, Navajo, Monument Valley, Arches, Canyonlands, Cedar Breaks and Pipe Springs.